Sometimes you just need some motivation to lose weight. Right from the start Slimtone has been about helping people to help themselves. Class members support each other whether that's face-to-face in the weekly class or by chatting and sharing tips on the Slimtone Facebook page. Together we create an atmosphere that is fun but informative, with sensible eating plans and encouragement and support – all the motivation to lose weight.
One member who continues to inspire and motivate us all is Sammi Robinson. Sammi was one of Slimtone's first online members and lost over 10 stone 15 years ago. What's more, she is still at her target weight.
You can read the full story of Sammi's success here, but the following Facebook post gives you the quick version: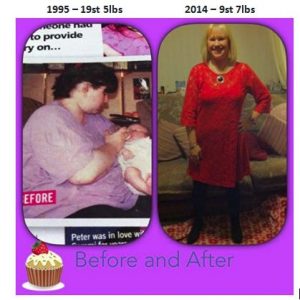 "Transformation thanks to Slimtone literally saved my life!"
Then in May this year Sammi rose to a new challenge.
"I decided I wanted to do the Race for Life," says Sammi, "But didn't want to do it on my own. I've never run before … and I have severe asthma, coeliacs disease, Type 1 diabetes and an electrical fault in my heart. I know it's a challenge but I thought I could push my body a bit more!"
After her first run, Sammi said, "Never in my life have I run 2.53 miles until today! And best of all I enjoyed it and feel great. If I can, you can too. No excuses! I have never felt better."
And she's done it! Sammi completed her first Race for Life in memory of her grandmother in June. Now she's caught the running bug, she's signed up for two more charity runs and has even inspired her husband, Peter, to join her.
Sammi says, "I never thought 16 years ago that I would see today, because as my GP said the rate I was gaining weight I would not have made 40 years old.  Everything I achieve now is down to my hard work and Marie and Slimtone's fantastic weight loss programme.
I'm working full-time, and also started back to college part time to do a Fitness Instructors course and some nutrition courses as I want a change in career.  I've wanted to do this for some time and thought, "Well, I'm 48 this year, so what the heck, just do it!". I love fitness, aerobics, weights, dancing and running – and healthy eating. And I want to give something back and help other people achieve what I have achieved."
She's amazing! Next time you're piling up the excuses and need some motivation, think of Sammi, she's an inspiration to us all!
Who inspires you to lose weight? Share your stories with us……..