Happy New Year!
This year is starting in a bit of a different way – and with lockdown and the long dark winter nights, we have to think differently about our weight loss tactics.
Slimtone members know that the vegetable basket is an important part of our daily plan. Veggies are low in fat, high in fibre and rich in many other valuable nutrients. At this time of year with the cold weather, hot food is also an essential – so why not combine the two and enjoy a warming and comforting bowl of soup.
Here are some great ideas for soup recipes – they're ideal for the colder weather and can be prepared in your slow cooker for a hot and convenient meal.
The Slimtone Super Soup is both inexpensive and easy to prepare.
Simply simmer all your favourite "free" vegetables in a stock cube made up as instructed.
If you like a really thick and satisfying soup, when the vegetables are cooked, blitz half with a handheld blender and return to saucepan stirring well.
I always add chopped parsley and a swirl of Philadelphia Light Cream cheese and find this is a really convenient snack or starter to a meal and the bonus is it's almost calorie free.!!!!!!
And instead of serving it in a bowl, why not enjoy a hug-in-a-mug!
The following will make a tasty "twist" to this recipe.
*** For minestrone simply add 56g/2oz cooked spaghetti or wholemeal pasta and a tin of chopped tomatoes or passata (the variety with basil is great for this recipe). This will make several servings and at only 200 calories for the total amount is an excellent starter to your meal.
*** Don't forget the Slimtone favourite by simply adding 56g/2oz chopped corned beef and 140g/5oz cooked potatoes – hey presto, you'll have a delicious serving of corned beef soup for only 220 calories. Serve with a slice of granary bread for a tasty meal in minutes.
*** Make a tasty curry sauce by blitzing soup with your handheld blender and adding curry paste to taste.  Or alternatively add gravy granules for a tasty "free" gravy.
*** This recipe can also make a tasty Hot Pot simply by thickening soup with gravy granules and a teaspoon of flour before warming through. Pop into small oven proof dish and top with swede mash made with 140g/5oz potatoes and lots of swede. Top with 28g/1oz of grated medium fat cheese and pop under the grill until brown and bubbly. Enjoy as one of your 300 calorie main meals with lots of your free vegetables.
*** The Butternut squash soup recipe on page 27 of your Lifestyle Plan is a firm favourite and I find adding 56g/2oz of red lentils (180 cals) and a few chilli flakes makes it really thick and great as a hug-in-a-mug on a cold day. This soup is really versatile and can be used as a sauce in so many of our recipes. Some members find substituting the pepper for a can of chopped tomatoes is a good alternative.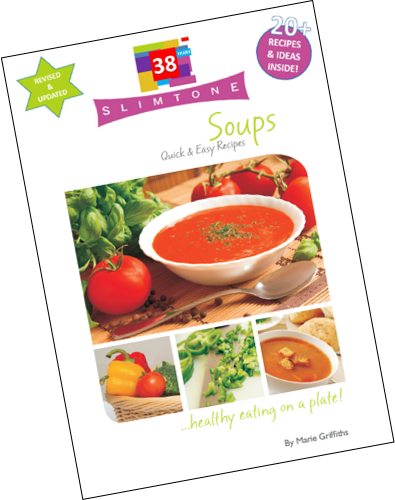 The following recipe is from our NEW fully revised and updated Slimtone Soup Book.
A gorgeously creamy leek soup with a sharp cheese and mustard kick which  makes a delicious and satisfying lunch.
Cheesy Leek & Mustard Soup
Serves 4 – approx 40 calories per portion
675g/1½lb leeks, washed and sliced               
1 large onion, finely chopped
1 medium potato, diced                       1 large carrot, diced
1 heaped tspn mustard powder         2 tspns cornflour
1.5 litres water                                       1 vegetable stock cube
Salt & pepper                                                  
56g/2oz. half fat cheddar cheese, grated
Mist a large saucepan with cooking spray. Sauté leeks, onion, potato and carrot over a low heat for 10 mins, or until all vegetables are tender. Mix mustard powder and cornflour with 100 ml water to make a thin paste. Season the vegetable mixture with salt and pepper.  Stir in the prepared mustard and cornflour thickening, stock cube and remaining water. Reduce heat and simmer gently until thickened. Puree the mixture until smooth using a hand blender or food processor. Return to the pan and bring to boil. Stir in cheese and heat gently until melted. Pour into four warmed soup bowls and enjoy.
Keep warm!
Marie x