Do you set off with the best of intentions, then your day overtakes you and you get home wondering what on earth to eat. You end up grabbing whatever happens to be in the fridge and all those good intentions go to pot!
Well it doesn't have to be like that, Slimtone can help.
Slimtone Lifestyle Plan
Our new Back-to-Basics-Booster Plan has everything you need for a balanced and healthy week of breakfasts, lunches, main meals and snacks. It's all done for you. And don't forget your Slimtone Lifestyle Plan too. There are 4 weekly menu plans in the book, as well as lots of alternative ideas for every meal in the day.
You can even design your own personal Lifestyle Plan by reading through the meals and recipes, highlighting your favourites. Use your Daily Menu Planner to write them up and you'll have a full week of meals at a glance!
 Whichever menu plan you choose, use it to write your shopping list. Now when you go shopping, just buy what is on your list. Nothing could be simpler and it means you won't ruin those good intentions.
I know from experience that planning and being organised is this key to success. Lots of members agree too.
Nicola has lost an incredible 6 stone. She says, "With such a busy job, I didn't have time to think about food. I was grabbing whatever I could and the weight was piling on. With Slimtone, it's so easy. A whole week is planned out and now I'm eating much better food AND I know I'm not going to be hungry!"
Suzanne agrees. Mum to 2 teenagers and working full time, she has lost 1 stone 5 lbs. "Slimtone took all the stress out of deciding what to eat. I use Marie's weekly sheet and plan for the whole week. That way I know exactly what to buy when I'm shopping and I don't have to think about what we'll have for tea."
Keep A Food Diary
You can use your Food Diary to keep track of what you're eating too. List all the food you eat – yes, even those "broken biscuits" or things you 'pick at'! This way you are in control of your food, not your food in control of you!
Maria has lost 2 stone and finds that this works for her. "I've got a busy job but I make sure I write down everything I eat on my Food Diary. It's a great reminder and incentive!"
Beth is a busy working Mum and has lost 2 stone. "I find it really helpful to write down everything I eat. That way I can keep track of what I've eaten every single day – and it works!"
Nicola, Suzanne, Maria and Beth are just some of our Slimtone success stories.
Read their stories here – I know you'll be inspired.
Just For You!
Make sure you pick up a Daily Menu Planner and Food Diary every week in class. And to make it even easier for you, we've designed an online version so you can fill it in on your phone or tablet, or download it if you prefer.
Click here to download your copy.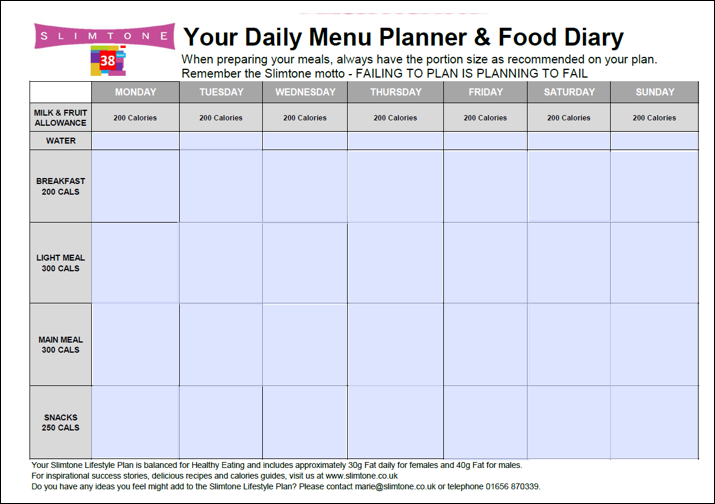 Lose a stone by Christmas!
Remember, if you lose a pound a week, you'll have lost almost 1 stone by Christmas. Wouldn't that be fantastic! When you come to class for every pound you lose, you'll get a sparkly bauble on your Slimtone Christmas Wreath! I can't wait to start giving those baubles out….
See you in class,
Marie x
Image:
ID 24978204 © Spaxia | Dreamstime.com