Struggling to lose those last few pounds?
Chris lost 5 stone and is focused and fit!
Here's how….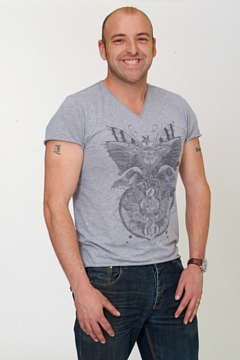 Chris has lost a total of 5 stone and is looking and feeling fit.
"It was the Christmas Swim photo that did it. I knew I wasn't small, but it wasn't until I saw THAT photo that I realised just how big I was. I stepped on the scales for the first time in a very long time and discovered I weighed 17stone 13½lbs. I knew right then that I was never going to be 18stone.
I constantly yoyo'd
I started running and began cutting down and losing weight. I lost a couple of stone, but I constantly yoyo'd – losing some weight then putting it back on. I just didn't seem to be able to get the balance right between diet and exercise. I'd reached a plateau and I needed help.
My Mum and my wife had both been going to Slimtone for a while and tried to persuade me to go with them. But I'm a bloke, I'm a "real man", a builder – slimming classes aren't for me! They worked on me and I finally gave in and went along. I was really self-conscious that first time, but I persevered…..and it all clicked!
A clear plan was just what I needed
The routine of going to class every week, the clear plan of what to eat and when – it was just what I needed. And, of course, the other people in the class (there were some other blokes too, although I was the youngest at the time) were doing the same as me. We all had the same mind-set – to lose weight and keep it off. Everyone was very supportive.
From mickey-taking to healthiest builders!
You can imagine that the boys I work with really took the mickey at the start. Then as they saw how serious I was and as the weight started to come off, their kidding tailed off and they started to ask questions. They were really positive and you should see us now! No more greasy fry-ups, we're the healthiest builders in South Wales!
At the start I stuck rigidly to the Slimtone Plan. Then as I got used to it, I began to understand how everything worked and varied it to my lifestyle.
Started marathon running
And I kept up the running. I did my first half marathon in Bath with my Dad and brother. We were fund-raising in memory of my younger brother, so this was really important to me. I finished, but at 15½ stone I was still carrying too much weight. The next one was the Cardiff half marathon and I had a pretty respectable time.
I've just finished the New York City Marathon and have booked in for Paris next. I think I'll tour the Marathon world! Through New York, I raised £2400 for Get Kids Going and the Encephalitis Society. I have had so much support from Marie and Slimtone members as well, both money and personal support, it's amazing – thank you all.
Class stops me falling into bad habits
I still go to class – it's important to stick at it and not fall back into bad habits, after all it shows straight away on the scales. And I can offer my support to others as they lose their weight too.
My biggest tip? Stick to the Slimtone Plan, but remember to exercise too. It doesn't have to cost you anything either. Why not start off with some power walking. One 20 minute power walk twice a week will really help. Go on, if I can do it, so can you.
Discover Slimtone for yourself