Lost a few pounds, but put it back on?
Victoria lost almost 8 stone AND has kept it off!
Here's how….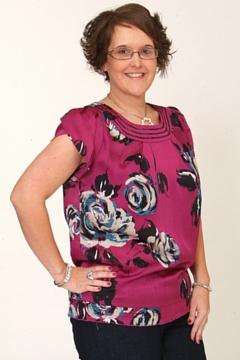 Fun-loving Mum Victoria has lost an amazing 7stone and 10lbs and now loves running around with her 7-year old son.
"It was just an ordinary day. I knew I was big, but when I stepped on the bathroom scales and they hit 20 stone I couldn't believe it. Not only that but I was starting to have health problems – I just had to do something about it.
Like lots of people, I started a low fat diet and used slimming pills. I lost 4½ stone…then over-exercised and put 2½ stone back on. That's when I knew I would keep on losing-putting on, losing-putting on unless I got some help. So I joined my local Slimtone class and have never looked back.
I like what I see in the mirror
I feel amazing. I can even keep up with my 7-year old son. We do lots of nice things together and he's learning about healthy eating and exercise too.
Probably the best thing about losing this weight is that I can go into any shop I want. I've just bought a dress for a party and it wasn't from a Plus size shop or a Plus size range. Now that's a great feeling!
The support you get at Slimtone, from Marie and the other members is fantastic. I always stay for the talks as the little tips are really helpful. When you come to class you realise that other people have had a bad week too, but together you can get there. The secret is to take it a half stone at a time.
When I started I thought I'd need to lose 10 stone, but now I know I want to lose about another half a stone and I'll be really fit and happy. That's the real key to Slimtone, it fits you and your lifestyle.
I love cooking and have learnt to adapt any recipe
How have things changed? Well, I used to fry lots of things and now I don't. Instead they go in the oven or I stir-fry. I love cooking and have learnt to adapt any recipe. There's always a low fat alternative and it's always tasty. I love the recipes and ideas in Slimtone's Lifestyle Plan – our favourite is Chilli Cheese Chicken, really yummy!
Portion control is very important – that was probably my biggest downfall in the past and I'm not sure I could even eat the amount I once used to put on my plate. I'd also recommend that you have a varied diet – with Slimtone you'll never get bored.
And enjoy life. Now when we go out as a family, we share a dessert. A great idea, because instead of just gobbling up what's in front of us, we chat and have some fun.
I've lost inches too!
Not only have I lost almost 8 stone, I've lost 80 inches too! I measured myself every month and that inch loss chart was a real incentive – especially in the weeks that I'd only lost a few pounds.
Thanks to Slimtone, I'm looking good and feeling great. My Mum is thrilled. Just recently she said, "I'd never have said this to you before, but you've lost your 'fat girl waddle'"
Discover Slimtone for yourself