Lucy has lost over 7 stone and is thrilled with her new look.
"Coming to Slimtone has been great." says Lucy. "The Slimtone Lifestyle Plan is so flexible – it's just straight-forward, "normal" food, there's always plenty to eat and it's tasty too.
Lucy says that you have to give yourself time – "You can't expect to lose lots every week. We all have our good weeks and bad weeks, but stick at it – you'll be glad you did, it really pays off!
Lucy's biggest tip is to plan what you're going to eat. "I sit down every evening and plan out what I'm going to eat the next day. I also take photos of my meals and share it on social media.
Here's what Lucy has been eating this week.
Breakfast
I like to ring the changes with my breakfast. It has to be something fast and I never skip it! 2 crumpets with a drizzle of honey is one of my favourites. I also like Blueberry Wheats (from Lidl) with milk from my daily allowance and fresh strawberries on top.
Lunch
Lunch is usually something I can take to work, so a tasty egg and cress sandwich or tuna mayo roll is ideal. I treat myself with some crisps and always follow up with fresh fruit to satisfy my sweet tooth.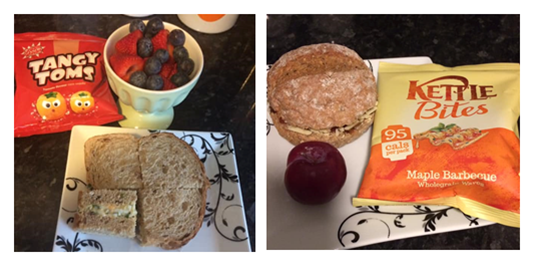 If I'm home, I love baked beans on toast or a bacon roll with crisps and a whip bar.
Dinner
I have my main meal of the day in the evening. With two teenage children it's important that we have things we can all enjoy. The Chicken and Mushroom Curry is a firm favourite and we all enjoy the Beef Casserole in a giant Yorkshire Pudding – both are great in my slow cooker. Pork Sweet and Sour with rice is tasty too and our chilli tacos are 
If it's just me, then a jacket potato with tuna mayo or chilli is quick, tasty and filling. Of course, I make sure I'm getting my 5 (or 6 or 7 or 8)-a-day with a colourful and crunchy salad.
Snacks
As well as being able to eat all these delicious meals, the great thing about the Slimtone Lifestyle Plan is that there's room for snacks too. I take a little pot of strawberries or raspberries to work with me and these water biscuits with cheese spread and strawberries is another easy snack. For Saturday night munchies while watching the TV, a snack mix and whip bar really hit the spot! And some days because I just want something naughty and sweet, I've had a little ice cream treat of a waffle cone (44 calories) and 2 scoops of my favourite coffee ice cream (115 calories) or a bowl of strawberries with 2 scoops of chocolate ice cream (115 calories) and a Nutella bar for later (115 calories).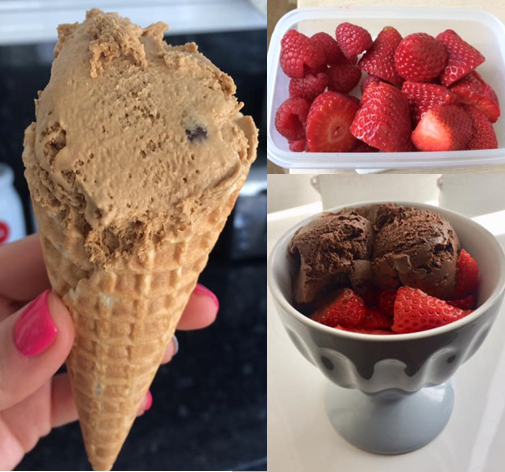 So that's what I eat in a day – breakfast, lunch, dinner and snacks! And I'm now over 7 stone lighter!
C'mon, give it a go!