You won't be hungry, you won't be bored, but you will lose weight
Join Slimtone today and discover for yourself that losing weight and healthy eating can be fun!
Here we are at the start of a New Year…and a new decade! It's just the right time to shake off those extra pounds. Imagine how great you'd feel if that waistband wasn't quite so snug. Imagine being able to run for the bus or play with the children without getting...
read more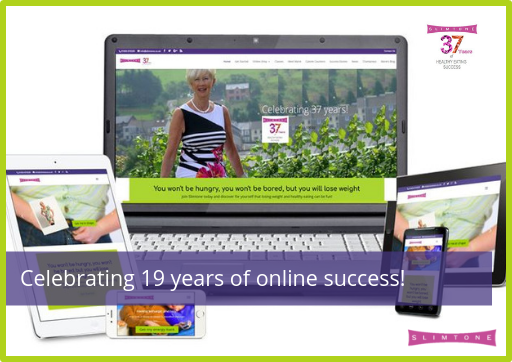 19 years ago today Slimtone took its first online order! The order for a Slimtone Lifestyle Plan was sent out to Germany. Marie explains, "A past Slimtone member had moved to Germany and, as soon as we went online, she placed her order and was delighted that she could...
read more
Slimtone is celebrating its 37th anniversary today! In June 1982, Marie Griffiths opened a class in Pontycymer in the Garw Valley. That was the very first Slimtone class. Marie explains, "I wanted to help people to help themselves to lose weight. At the time losing...
read more
"I work in a busy fruit and vegetable shop, and bending over to pick up the fruit on the lower shelves wasn't easy! I joined Slimtone – now I'm full of energy. up and down all the time and never out of breath."
"I thought 'slimming classes aren't for me!' But I persevered…..and it all clicked! The clear plan of what to eat and when – it was just what I needed. Go on, if I can do it, so can you."
Slimtone Lifestyle Plan
Do-It-Yourself Option
Designed for people with busy lives who love good food.  A proven, easy-to-follow plan that fits your lifestyle.
6-week Lifestyle Plan
Our Most Popular Choice
A full 6 week plan to fit your lifestyle, including Slimtone Lifestyle Plan, weekly Menu Planners and weekly Shopping List, PLUS personal progress emails from Marie and chat to other Slimtone members on the private Slimtone Facebook Group.
12-week Lifestyle Plan
Our Best Value Option
An easy-to-follow 12 week plan with everything you need. Ideal if you want to lose 2 stone or more.
Enjoy a steady. healthy and permanent weight loss