Slimtone Daily Menu Planner & Food Diary
Download your Online Daily Menu Planner and Food Diary here.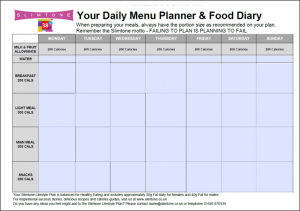 Now you can download the planner and fill it in on your phone or tablet so that it is always at your
     fingertips.

     This is such a useful part of your Slimtone Lifestyle Plan. Use it to help you get into the habit of
     planning and organising your meals. This way you are in control of your food – not your food in
     control of you!
Diet at a standstill?
List all the foods you 'pick at' daily in your your diary in RED (yes, even cold chips and broken biscuits have calories!). You'll soon discover the Plan works when you do this.
Here's to your success,
Marie x