This week is very special for us all – we are celebrating 40 years of Slimtone! Can you believe it! When I opened that first class in Pontycymer in 1982, I never imagined that Slimtone would still be thriving in 2022 – we even kept going throughout these last two years of disruptions! Back in 1982, my intention was to help people to help themselves achieve lasting weight loss and improved health. It was also to make it fun. And that's what we're continuing to do today. We've even opened a new class in the last few weeks too!
There have been a few changes along the way – from that first leaflet of my '6 Step "High Speed Diet"' to today's Slimtone Lifestyle Plan. In 1982 a toaster was THE essential gadget in your kitchen! Do you remember Energen bread rolls and Outline was the only low fat spread available. There was no low cal cooking spray, sweet chilli sauce or aerosol cream…… how did we manage!!
Looking back over all our plans, menus and recipes, I came across this great photo of one of our earliest weigh-ins.
It was fun to re-create it – I'm pleased I don't still have to carry those scales around!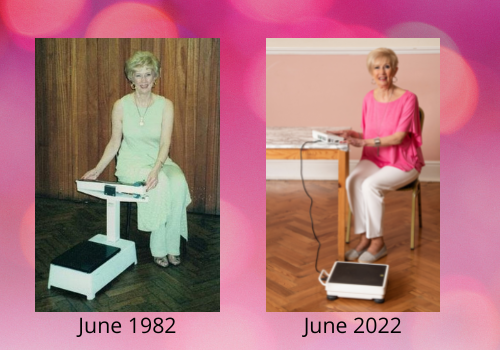 There have been some magical milestones – our first visit to Champneys in 1993 (we've just had our 147th visit!!), the launch of Slimtone's Mail Order pack in 1998 and then the launch of our online portal in 2000. I still can't believe that we went online just six months after the BBC launched their online presence and that we made history as the first slimming organisation to take this brave and innovative step!
I've met some amazing people over the last 40 years and have made some great friends through Slimtone. It has been exciting to be a Dynamo Role Model for the Welsh Government and I hope I've inspired others, both young and old, to start their own business.
I was thrilled to be the Welsh Regional winner of the 'Fab After 50' Award in 1998. I loved meeting Gloria Hunniford when she presented the Award at Olympia in London and enjoyed my 10 minute interview with her on the radio! All the other winners just said a quick hello, but Gloria was really interested to hear more about Slimtone and we had a lovely chat!
It's been an amazing 40 years with lots of 'champagne moments' but the very best thing of all is seeing a member reach target. I still get a tremendous buzz when I see the numbers on the scales dropping and the look on the faces of those who have achieved success. That's what continues to drive me and to keep Slimtone up-to-date, fresh and vibrant.  
Thank you all for your support and inspiration,
Marie x