And the celebrations continued! It was such fun to share this 40th anniversary of Slimtone with so many members in all of the classes. So many reminiscences, stories….and cake, cake and more cake!!
Our evening celebration at the Masonic Hall in Maesteg really topped it all. Everyone looked so glamorous and it was fantastic to see so many of you showing off your new figures!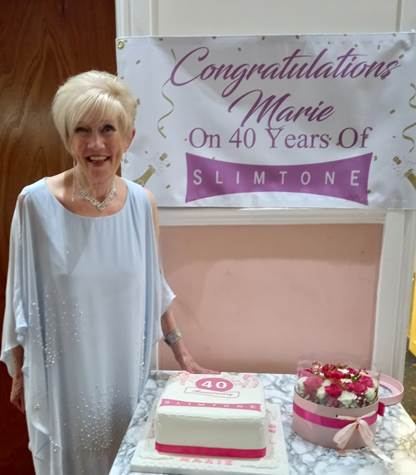 We had an amazing meal, lots and lots of chatter and danced the night away to our favourite disco tunes. There was lots of fun too. Jules outdid herself with this wonderful celebration cake – thank you so much. Denise put together this beautiful bouquet – such an innovative arrangement, I loved it!
And the members of the Ogmore Vale class entertained us all with their Slimtone bunting and Slimtone headbands display – you are crazy and I love you all!
It was a tremendous night and I thank you all for joining me in this milestone moment for Slimtone. It was such a pleasure to share it with you and to see how many friendships have been formed within this Slimtone family.
Over the next few weeks we'll be sharing some of our recent success stories – I know you'll be inspired by them. If you haven't been to class for a while, or are looking to lose those extra pounds that have crept on, come along to one of our classes or join us online, we'd love to see you.
And if you join us in the next few weeks, you'll receive our 40th anniversary book along with your Slimtone Lifestyle Plan and everything you need for a steady and healthy weight loss – and be prepared for plenty of fun, encouragement and laughter too!
See you soon,
Marie x