You won't be hungry, you won't be bored, but you will lose weight
Join Slimtone today and discover for yourself that losing weight and healthy eating can be fun!
A real couch-potato, on tablets for diabetes and hiding away because she had no confidence to go out! Now she's a new person – always out-and-about, walking, swimming, wearing fabulous clothes – and no tablets and no sign of diabetes! Sharon has lost an amazing 8...
read more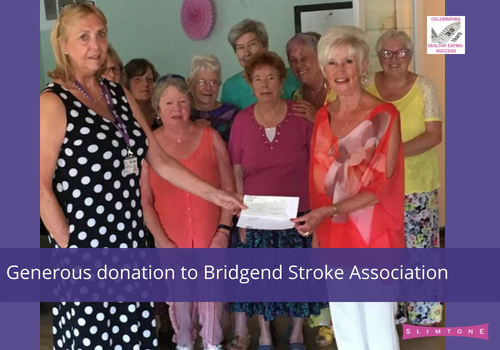 Slimtone is very much part of the local community in the Bridgend area. At the end of June, Marie thanked Slimtone members for their generosity in donating £1040 to Bridgend Stroke Association. Members presented a cheque for this amount to Karyl Cater when she visited...
read more
We all love something to help us cool down in this warm weather, and it's easy to grab the first ice cream you come across. Ice cream can pack a big punch in terms of calories, fat and sugar, but there are some good choices you can make with lots of new low calorie...
read more
"I work in a busy fruit and vegetable shop, and bending over to pick up the fruit on the lower shelves wasn't easy! I joined Slimtone – now I'm full of energy. up and down all the time and never out of breath."
Hayley Morgan
"I thought 'slimming classes aren't for me!' But I persevered…..and it all clicked! The clear plan of what to eat and when – it was just what I needed. Go on, if I can do it, so can you."
Chris Dyke
Slimtone Lifestyle Plan
Do-It-Yourself Option
Designed for people with busy lives who love good food.  A proven, easy-to-follow plan that fits your lifestyle.
6-week Lifestyle Plan
Our Most Popular Choice
A full 6 week plan to fit your lifestyle, including Slimtone Lifestyle Plan, weekly Menu Planners and weekly Shopping List, PLUS personal progress emails from Marie and chat to other Slimtone members on the private Slimtone Facebook Group.
12-week Lifestyle Plan
Our Best Value Option
An easy-to-follow 12 week plan with everything you need. Ideal if you want to lose 2 stone or more.
Enjoy a steady. healthy and permanent weight loss